Did you know that we have well over a hundred Santa costumes in stock–rental and purchase costumes both? We rent Santas out for most of the businesses in Greenville that need them during the Holiday season, whether they're grocery stores, non-profit organizations, churches, or businesses. We even have professional Santa suits, of course.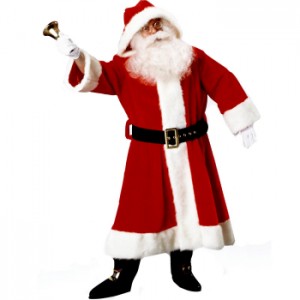 If you're looking for one, come by our store and check them out! You're welcome to try them on and see what you think. Actually, you can see several of our purchase Santas here. We've also got quite a selection of Santa wigs and beards in-store, ranging from around $25 up to about $80.
Our rental Santa costumes aren't on our site, but we'd love to show them to you if you come by our store. There are three different types–Corduroy, Plush, and Velvet. Each one of these comes with the following: jacket, pants, hat, belt, boot covers, wig, and beard. Essentially, all you'll need besides a person to wear the suit are gloves and glasses (if you'd like–we sell these in our store for only about $5.00 each). Prices are as follows: Corduroy ($55.00 per day), Plush ($65.00 per day), and Velvet ($75.00 per day)–and all rentals, as always, require a security deposit equal to the rental amount (if you've any questions about our rental policies, or how deposits work, click here to go to our FAQs).
So if you've any other questions, just email us or call us at 864-271-4260.
Thanks again for reading!