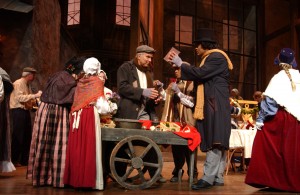 Welcome to Costume Curio, Inc. – the Southeast's Premiere costumer, located near downtown Greenville, South Carolina. With over 20 years of professional theatrical costuming experience, we do our best to help the community take their performing arts to the next level, by providing local actors, actresses, artists, and directors with the costumes and makeup they need to be their best, when nothing else is good enough.
Costume Curio is a small, experienced team of dedicated professionals. At Costume Curio, if we don't carry it, we can get it–and if we can't get it, we can make it.
If you'd like to contact us, just use the information on the left side of each page on this site or see the information below. Theatres, universities, and businesses can find appropriate information on our Theatres page.
---
Costume Curio, Inc.
1704A Laurens Rd.
Greenville, SC 29607
(864) 271-4260 (local to Greenville)
(877) 271-4265 (toll-free)
(864) 298-0111 (fax)
Regular Hours:
Mon – Thur: 9AM – 5PM
Fri: 10AM – 6PM
Sat: 11AM – 3PM
Sun: Closed
October Hours: Every year we have special extended hours for the month of October. Check back here in September 2018 for more info! If you have any questions, please call 864-271-4260 or email costumecurio@bellsouth.net.
---