There's a lot coming up in the near future–from RetroFest to the start of Opera season. Be sure to check out our Events Page to stay up-to-date with what's happening in the theatre community around Greenville.

On a related note, those of you getting ready for RetroFest should definitely check out our shop! Our online store contains mostly sale costume and accessories, but our physical location has a fantastic selection of vintage and vintage-styled rental outfits. We carry everything from bell-bottoms and polyester pants to daishikis, pimp suits, leisure suits, and some great one-of-a-kind dresses. That's right, our rentals are all unique–you won't see someone at a party with the same outfit as you.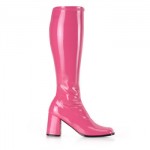 Definitely check out our selection online, though: we've got some retro costumes here, as well some choices of men's platforms and women's go-go boots.
Aside from that, we've also got a huge selection of Retro/hippie sunglasses and shades–big, small, blue, clear, green, gold, sparkle; all sorts–and several different wigs that are just perfect for hippie costumes. We've got afros, long hippie wigs, bobs, and gogo-dancer wigs. Come by the store and try some on!